---
Definition of the Hot Wheels Gran Toros
What is a Gran Toros?
You would think this is an easy question but it is not. The original Gran Toros name was first used in North American and only for a new line of 1/43 scale Hot Wheels cars. These are the "true Hot Wheels Gran Toros." After 1972 so many Mebetoys cars were labeled as Gran Toros that defining a Gran Toros becomes to some "subject to interpretation."
What is not subject to interpretation is the difference between a true Hot Wheels Gran Toros and different lines of Mebetoys models that adopted the Gran Toros name after 1972. Nearly all of these Mebetoys models were also released in the Mebetoys Series, the Gran Super Series, and Series Europa. The only difference between the models in these lines is the packaging. Not the model number, nor any other feature, distinguishes the difference between Series Mebetoys, the Gran Super Series, Serie Europa, and post 1972 non-Sputafuoco Series Gran Toros.
Prior to 1972, the Hot Wheels Gran Toros that were packaged for the European market were called the Sputafuoco series in Italy and Heisse Räder Supergross in Germany. These names and the Hot Wheels Gran Toros were discontinued in North America and phased out in Europe starting in 1972. With a disappearing market for the Hot Wheels Gran Toros (Sputafuoco) in North America, Mattel S.p.A. (Mebetoys) applied the Gran Toros name to some of their Mebetoys Series models. In fact, the existing 1/43 scale Mebetoys series was divided into four new catagories; Series Mebetoys, Series Gran Super, Series Europa, and Series Gran Toros, based on the style of the models. When Mattel created the Hot Wheels Gran Toros some existing Mebetoys models were converted to become Gran Toros (Series Sputafuoco). Conversely, when the Hot Wheels Gran Toros / Series Sputafuoco was discontinued, three existing Hot Wheels Gran Toros models that were not part of the Mebetoys series models were converted to standard Mebetoys series models.
When identifying a Hot Wheels Gran Toros, many people argue about which models are the "true" Hot Wheels Gran Toros. Some people look for a simple "black and white" solution which there isn't. Many say that a "true" Gran Toros must have the "Hot Wheels" logo on the base. This isn't correct although I wish it was. I'm not here to argue what a Gran Toros is. I loved my first "redline" Hot Wheels and still have them all. I remember when Mattel first introduced the Gran Toros to the Hot Wheels family, collected them, and still own them today. I have a large Mebetoys collection as well. I collect both lines but only consider a model a "true" Hot Wheels Gran Toros if it is a 1/43 scale Mattel Hot Wheels.

---
The Hot Wheels Philosophy and the Origins of Gran Toros
What is a "true" Hot Wheels Gran Toros?
To identify a "true" Hot Wheels Gran Toros we must first look at the design philosophy of the Hot Wheels. To understand what made a Hot Wheels different from the other 1/64 scale diecast cars of its day will give us the definition of a Hot Wheels Gran Toros. So what made a Hot Wheels so different?
---
The Factors that Define a Hot Wheels Gran Toros
I remember first seeing the Mattel Hot Wheels cars. The most popular 1/64 diecast car of the time was the Matchbox by Lesney. In comparison, Hot Wheels were radical. Their wheels were very large compared to their bodies. The wheels were mounted on piano wire and they were extremely fast. Despite criticism from "scale purists" Hot Wheels were very popular. So popular that Mattel decided to apply the Hot Wheels philosophy to 1/43 scale cars that they would label "Gran Toros" for the American market. Mattel bought an established Italian toy diecast company named Mebetoys which had an existing line of 1/43 scale diecast cars. Mattel had Mebetoys convert some of their models to Gran Toros and here we can see the criteria for a Gran Toros. The fundamental difference between Hot Wheels Redlines and Lesney Matchbox models was that the Hot Wheels were specifically designed to be played with and Mattel released track and race sets along with the diecast cars for this purpose. Hot Wheels Redlines were designed first to be fast on their track and to be fun to play with. Scale and accuracy was secondary.
The following image is a re-creation of one side of a U.S.A. Gran Toros package. The upper left corner lists the Gran Toros features:


So, the features are:
Precision moving parts!
Authentic detailing! "Mag" wheels!
Exclusive Spring-BarTM suspension!
Low-friction wheel bearings!
Mattel had Mebetoys make new models for the Gran Toros line. Mattel also had Mebetoys convert existing models into Gran Toros. To clearly illustrate the Gran Toros differences we will look at a converted model, the Chaparral (2F). Both Mebetoys and Gran Toros Chaparral models were made simultaneously. The following images illustrate the difference between the models:

| | | |
| --- | --- | --- |
| Gran Toros Wheels | Gran Toros Axles | |
| | | |
| --- | --- | --- |
| | | |
| Mebetoys Wheels | Mebetoys Axles | Mebetoys Base |
All "Mebetoys" cars had solid metal axles and "true to scale" rubber tires. They were numbered alphanumerically in an A-XX format (for example, A-23). The converted Toros had big plastic racing tires, chrome hubs, and were mounted on piano wire. They were numbered in a 4-digit numeric series starting with 6601 and ending with 6629. Just like their 1/64 scale Hot Wheel cousins, these cars were dramatically faster than their conventional counterparts.
Mebetoys Chaparral (top)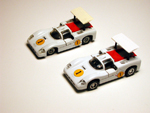 Gran Toros Chaparral (bottom)
---
The Conclusion:
In conclusion, all "true" Gran Toros follow the Hot Wheels philosophy of the time: oversized wheels mounted on piano wire (Spring Bar Suspension) which made them very fast. There are only 25 models which follow this principle. These are the true Hot Wheels Gran Toros.
---
Myths, Urban Legends, and Snake Oil:
To complicate matters even further, popular auction sites today have become the "Wild West," infested with a form of modern day snake-oil peddler. While there are many reputable sellers, and some that simply are unaware, there is a small percentage that practice deceitful tactics in order to maximize their profits. These rare individuals fabricate myths about Gran Toros with no basis in fact or reality. They can become hostile and defend their position based on the "vast numbers of sales" they have made or the fabricated stories of their contacts that are in turn attempting to maximize their profits. I never understood this defense. Consider a department store clerk that sells thousands upon thousands of diecast metal cars and calls them all "Hot Wheels" or "Matchboxes" regardless of the manufacturer. Does credibility and expertise come simply from the number of sales? I think not. Unfortunately once a myth is released into the "public domain" it is copied and passed along by others until it takes on the proportions of an urban legend.
While myths abound, we do know some facts about the Gran Toros:
Every Gran Toros was made in Italy. Gran Toros were never made in the United States or Germany, although the USA and Germany were major target markets as evidenced by the packaging.
There is no evidence or records that Gran Toros or Mebetoys were made outside of Italy under any license agreement. Note that Mattel S.p.A. (the former Mebetoys) was a subsidiary of Mattel Inc. which kept such records and legal agreements. Further, the models alleged to be made under license bore no mention of any such license agreement on their packaging and the great majority of these models had all Mebetoys and Mattel markings removed from their bases. Some of these models appear to be made from tooling that was outright sold on the open market as Mattel S.p.A. was being down-sized and closed. The models most likely made from the original tooling are also the ones that have all the Mattel and Mebetoys markings removed. The models that did not have the markings removed are so different dimensionally than the original Gran Toros and Mebetoys that it defies the reproducibility of the diecast process. In addition, it is obvious that the manufacturer did not attempt to recreate the most difficult parts which provides more evidence that they did not have the original tooling.
The plastic wheels on the Gran Toros were not created for child safety issues. Simply put, they were following the design principles of the popular 1/64 scale Hot Wheels (Redlines). Indeed, many of the Gran Toros had spare tires that had rubber wheels, were easily removed, and were much smaller than the wheels mounted on the model. In the mid 1970s Mattel S.p.A. discontinued the rubber wheels on the entire Mebetoys line of models to reduce costs. These newer pastic wheels were not mounted on "spring bar suspensions" nor were they designed for speed like the Gran Toros wheels.



There were 25 Gran Toros models as listed on this site. The Mini Cooper "Rallye", Ferrari 365 GT, Porsche 912 "Rallye", Maserati Bora, any Land Rovers nor any other "rubber wheeled" Mebetoys model was a "Hot Wheels Gran Toros." Remember that Mebetoys continued to use the Gran Toros name on various packaging after the Hot Wheels Gran Toros were discontinued.
Much of the confusion about the Mini Cooper "Rallye" and Porsche 912 "Rallye" comes from the 1970 Hot Wheels Club Annual. Note that this catalog was printed before the Gran Toros were released and does not have the words "Gran Toros" printed anywhere in the catalog. Click the following image for more information on the 1970 Hot Wheels Club Annual: